Why I wish I'd learnt to sign earlier
Published Date

: 02 Sep 2021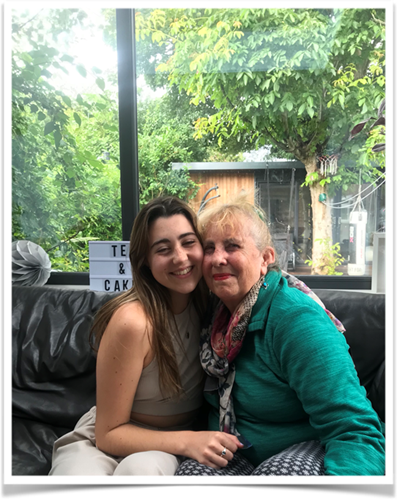 "Grandparents come in all shapes and sizes (step-grandparents, paternal grandparents and even grandparents who provide kinship care), but they all have one thing in common - the joy they experience from knowing and being able to support their grandchild." (gransnet.com)
We became grandparents for the first time in the summer of 2001. The average age of a grandparent today is 49 and we were both 50 that summer. We were absolutely delighted and so proud of this little girl.
India has never failed to bring us joy. She was three years old before it was discovered she was born profoundly deaf. The consultant who gave the diagnosis said he thought the reason she'd been able to pass the assessments up until then was because she worked out the responses they wanted from her by employing her other highly-developed senses.
I knew a bit about what a deaf person sounded like as I grew up with Polly, an elderly lady my parents had taken into our family after her husband died. The old couple were sitting tenants in the large Edwardian house we bought and, rather than send her away from her home, mum and dad absorbed her into their family of seven children and various aunties and uncles, who came to stay from Ireland while looking for work in London. 
In 2004, I noticed India's speech was falling behind. She was being treated for glue ear but my son and his wife decided to get a private consultation to clarify things. The diagnosis was that she had never heard and had been born with bilateral cochlear damage. The plan was for her to become a 'hearing' child as she was part of a hearing family, with one cochlear implant and a hearing aid. India was not encouraged to learn to sign. I believe it was the policy at that time. I couldn't understand it and put it to her Teacher of the Deaf that my granddaughter was clever enough to be bilingual using British Sign Language (BSL) and English. The response was quite clear, if we learnt sign, we'd impede her progress in learning to hear, even though the National Deaf Children's Society had offered us family signing sessions.
Despite this advice, my daughter-in-law went to evening classes and learnt to sign; for many years she interpreted for her daughter with other deaf people. India, aged 11, started at a boarding school for deaf children, here she learnt to sign from her friends and schoolmates, in the dormitory and under the desk as pupils were discouraged from using signing there too.
It bothered me that I was unable to sign with India, beyond a bit of fingerspelling and a few signs that she and her mum had taught me. In 2019, I decided to go for it and started an online BSL Basics course with the WEA, an adult education organisation. I wanted a non-accredited course as I wasn't looking to become qualified, just wanted to be able to communicate better with India and her friends. India had asked me to support her in her studies at college, as before I retired I worked as an additional learning support tutor in adult education. I've continued to support India now she's at university studying for a degree in fashion. I discuss and analyse text with her to clarify what's required of her in her assignments and projects.
In addition to bilateral deafness, India was born with a language delay. Although she uses Sign Supported English (SSE) rather than BSL, being able to use sign has most surely helped her understand the concepts and context of her assignments, especially as most of the sessions have had to be on Zoom because of lockdown.
The love India's family have for her has never been in any doubt. She's India, loved by every one of us. There's always been a total acceptance of her deafness, it's part of our bright and clever girl, but there are lots of practical help an extended family can give to a deaf child.
When India was small we went to a fun day together. We were having a great time until the batteries failed in her implant. She was suddenly unable to hear and I could see her pain and confusion. We had to cut our day short, go home and get batteries. From that day on, I had batteries in every handbag, in my house, in my sister's house, everywhere. If I'd been able to sign, perhaps I could have reassured her more easily that help was coming. 
People have always said to me that India is lucky to have me because I have always been her champion. But no, these past 20 years have been fantastic and I'm lucky to have her, my little friend, all grown up now, still giving me new experiences, keeping me laughing and on my toes.