World Book Day 2022
Published Date

: 03 Mar 2022
For World Book Day, two of our parents share their children's favourite books and what they enjoy most about reading.
If you'd like to find new books for a child in your life, why not check out our children's storybooks which feature deaf characters? All money raised through book sales helps us to support deaf children and their families.
---
Kenzie loves story time
Reading a story at night has been a part of Kenzie's bedtime routine ever since he was a baby. I think a routine is important to Kenzie as he knows exactly when it's bedtime and time to settle for his story. He always gets to choose which story book we will read each night from his bookshelf. He has so many books, but he does tend to stick to the same few that he enjoys the most.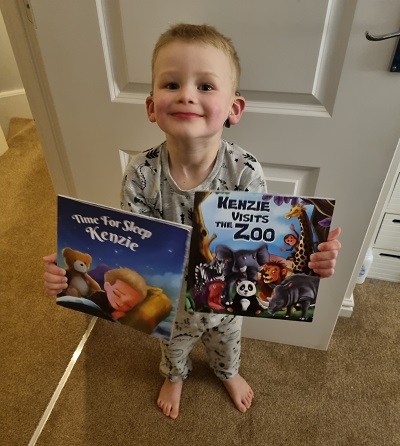 His favourites are his 'Kenzie' books that his nanny buys him. These are stories that have been made specially to include Kenzie in them. He has Kenzie the Talking Tractor, Kenzie the Little Digger etc and he loves being a character in the book.

Kenzie also has books to read each day from school, and these are often books to help him develop his alphabet learning. He really enjoys reading his school books and doing his homework as it makes him feel proud of himself and being 'a big boy'.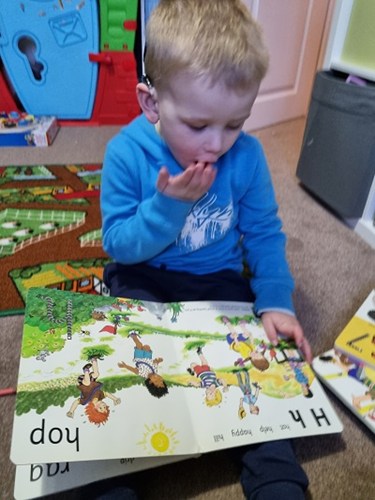 He enjoys the finger phonics books which are really helping him with his letter sounds as they use a song, sound and actions to learn the letters and sounds. After having these in school, I bought him the collection to have at home which also included a CD so we can sing the songs and complete the actions together.

He is now able to identify letters and words that start with that letter, and the finger phonics have helped him with his pronunciation.

Kenzie also enjoys it when we make up our own stories together, which often include Peppa Pig as he is obsessed! Our stories include Mummy and Kenzie adventures and what we are going to do the next day.

I think reading is a great bonding experience and really helps to develop their imagination as well as speech and language skills. 
Charlotte's favourite book
Charlotte's favourite book is A Piece of Cake by Jill Murphy. It's a lovely story about a family of elephants who are trying to change their lives and diets to become healthier, but none of them like it.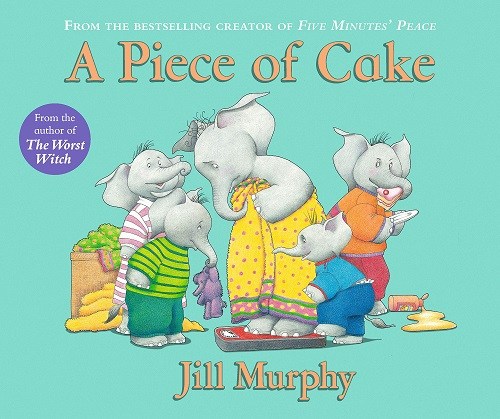 The Jill Murphy series about the Large family combines comedy with a caring family story, which Charlotte really loves to read.
When I asked Charlotte why this was her favourite book, she simply said that she loves elephants, babies and cake! She also talked about how they had a big, noisy family like we do. When we read it together, you can tell she loves it by how engrossed she becomes in the story and how often she giggles at the events in the story.
Charlotte found it really difficult to learn to read. She wasn't able to sound out words, and she found it difficult to learn words, even small, simple ones. However, she always loved books, so we read a lot together, pointing at pictures and signing stories, repeating the same story over and over. Rhyme is not something that Charlotte can appreciate yet, but she is starting to understand it. It's something that causes hurdles as she is unable to memorise poems, nursery rhymes and songs. A deaf mentor we chatted with thinks this may be because rhyming doesn't sound as pleasurable and engaging as it would to someone with natural hearing.
Over lockdown, we continued to read and suddenly Charlotte started recognising words. Since then, she's continually developed her reading skills and is now independently able to read books such as this one, which is a source of great pride for her and for us as parents.