Finally, a birthday party!
Published Date

: 17 Feb 2022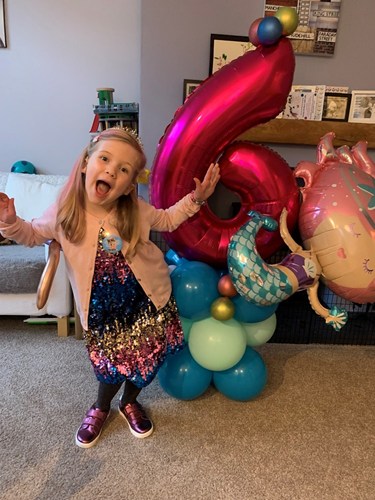 At the end of my last blog post, I wrote about my hopes for 2022, and one of them was a big birthday party for our deaf daughter, Sybil. I'm happy to say we've ticked that off the list already - Sybil celebrated her 6th birthday in style this month!
Our girl absolutely loves a birthday party and is never afraid to be the centre of attention, but birthday parties can be really challenging occasions for deaf children. They can be busy, noisy and chaotic, which doesn't make for the best of listening environments. At Sybil's last birthday party, shortly before the first lockdown, we hired a massive, cavernous church hall and let more than 30 kids go wild with toys and party food. She really enjoyed it, but the acoustics and background noise made it really difficult for her to hear.
This time, we decided to hold a joint party with one of Sybil's best friends who is in her class and was born on the same day as her. It was great having another set of parents to share the load of planning (and making mountains of jam sandwiches) with! We also decided to hire an entertainer, and chose a magician who came highly recommended from local parents. While researching entertainers, I found that our chosen magician had performed for a local deaf children's society a couple of years previously, so understood a bit about deaf awareness. Prior to the party, I talked him through how to best communicate with Sybil, and he asked lots of thoughtful questions and took on all our advice.
To help with the acoustics, we opted to hire a smaller hall this time. Large rooms and lots of children are always going to make for a tricky listening environment, but lower ceilings and soft furnishings help to absorb the sounds. The kitchen and toilets were in a separate part of the church, so noises from food preparation and doors being opened and closed were minimised.
On the day of the party, Sybil was beside herself with excitement! Luckily, she didn't have to wait too long for the party to start as we opted to have it in the morning. Sybil really struggles with listening fatigue and tends to be at her best in the morning. By the afternoon, she's usually flagging and likes to take off her cochlear implant processors for a break. She was exhausted the evening before the party after a full-on week at school, but thankfully we managed to get her to bed early.
At the party itself, the magician used Sybil's radio aid system, which transmits his voice directly to her processors. Before the guests arrived, he and Sybil tested out the sound system with and without the radio aid so that she could tell him what was best for her. The magician put on a show, followed by party food, then party games. During the show, he held the children's attention brilliantly - they were all rapt! He managed to keep them sitting still and listening carefully for the entire show, and Sybil was able to follow everything. She really enjoyed herself, took part in a couple of magic tricks herself, and even commandeered the microphone to announce the start of musical statues!
It was wonderful to hear a room full of children singing happy birthday, but it wasn't until later when I watched the video that I'd taken that I realised many of the children from Sybil's class were signing along as well! That was so touching and lovely to see.
It was amazing to get all of Sybil's friends together celebrating after such a long hiatus in parties, and she's already planning her next one!