George's grandparents
Published Date

: 02 Nov 2023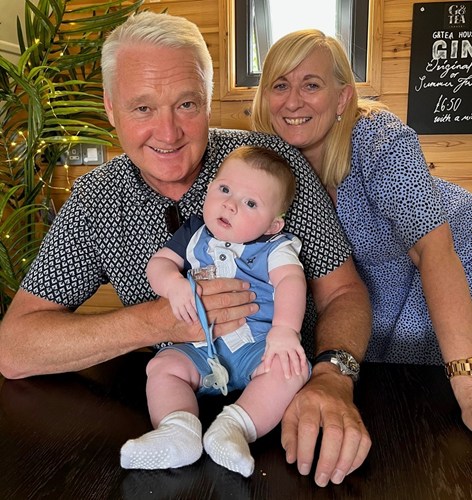 For Grandparents Day, it would only be right to give a special shoutout to George's amazing grandparents, Linda and Gary!
From the moment they learned of my pregnancy, they've been super excited and supportive. During our five-night stay in hospital when George was born, we weren't allowed any visitors on the ward, but they still showed up every day to see us through the window.
When George was first diagnosed as deaf, we all really struggled with the shock diagnosis and had no experience of deafness before. George's grandad was always saying, "He's not deaf, I think you need a second opinion," which I think having read other blogs, is quite a common theme within families when first diagnosed. George's grandma went into 'everything will be all right' mode and that being deaf doesn't change how loved he is – probably keeping us all calm while secretly her own head was in a spin too.
Linda has been our rock from day 1. She is the most amazing grandma to George, and it speaks volumes with how strong their bond is, with George always greeting her with a big smile.
While I'm at work, George spends three days a week with his grandma, and she teaches him a variety of new things, from stacking games to 'singing' together. Linda has had four children of her own and has three other grandchildren, not to mention nieces, nephews, and great nieces and nephews she's helped out with… she's pretty much Superwoman. However, she is the first to admit that even with all this experience of children, it doesn't quite prepare you for looking after a deaf child.
Linda does a lot of Googling to find tips and tricks, as well as suitable toys for George like ones that light up or are more visual. She has completed the National Deaf Children's Society's Family British Sign Language (BSL) online course with us. Not only this, but she's addicted to the Bright BSL app and likes to show off by learning a new sign and teaching it to us all. It shows that you're never too old to learn a new language!
George's grandad works away for weeks at a time, so he's not always around to see George, but he makes sure to Facetime him every day. We think this is important as George likes to see faces and means he can be more interactive with him. George reaches out and touches his grandad's face on the phone screen – but we aren't sure if he's just trying to find the end call button!
George is very lucky to have grandparents who go out of their way to become more deaf aware and learn as much as they can in the best interests of George. I have no concerns that with such fantastic support, George will go on to achieve everything he wants to and be a strong, resilient little boy!