Grieving the little things
Published Date

: 30 Jun 2022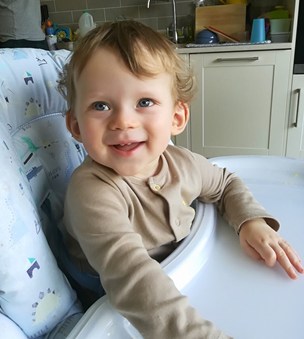 My glass is half full when it comes to Lucas's hearing loss. I'm careful to appreciate the positives while ploughing through the challenges: I'm enjoying learning BSL and forging relationships with a new community of people; I'm in awe of the technology that is being made available to us; and I've definitely learnt more about the anatomy of the ear than I ever expected to learn on maternity leave. It takes me by surprise then, when I have a sudden surge of grief about something really incidental, like today when I enjoyed a glorious few moments stroking my little boy's beautiful hair but realised how rarely I get to do it. Let me explain…
Lucas is really hating his latest ear moulds, and he's tugging them out at every opportunity. They're whistling under his pilot cap and driving both of us mad, so I decided to take them out for a little while and let him play uninterrupted without me wiggling them back into his ears. It meant that I could take off his pilot cap and see his hair.
Lucas has beautiful hair. He has a lot more of it than most 10-month-olds: dark blonde in colour, a floppy fringe that falls to the side, with curls at the back that flick out behind his ears. I'm sad every time I have to put his pilot cap on, despite how cute he looks in it, because I know it will be a few hours before I get to see his luscious locks again.
One of the things I noticed early on when Lucas got his hearing aids at 12 weeks old was that stroking his head made the hearing aids feedback and whistle. I don't think I'd realised how much I'd got used to avoiding it until this afternoon when he was playing next to me. I had spotted some Ella's Kitchen Melty Stick welded into his hair from what must have been a vigorous lunchtime head scratch. He was having a rare break from commando crawling at speed around the floor, and he just lay there calmly, chewing thoughtfully on the leg of a plastic Friesian cow while I teased the food from his hair.
I stroked his hair back into place across his forehead and behind his ears, and as I ran my fingers through the wiry curls on the back of his head and let his little head rest in the palm of my hand, it dawned on me how rare it was to do this. It was a really special moment of tactile connection with my little boy, and it made me sad that his hearing technology created a barrier to us being able to do this regularly. It was just a fleeting moment, and then he crawled off in pursuit of another farm animal and I got on with the day.
Yes, I find it helpful to stay focused on the positives, but it's also important to let myself feel sad when I need to, to wallow in a brief (or not so brief) moment of frustration and to grieve the things that others are able to take for granted, like not being able to whisper "I love you" as he drifts to sleep. Hearing technology is amazing, and I will forever be grateful of the access it has given Lucas to sound, but sometimes, just sometimes, I want to stroke my little boy's hair, tickle him behind his ear and twist his curls around my fingers while I watch him play. And it's okay to feel sad about that.