Home safety for Kenzie
Published Date

: 28 Jul 2022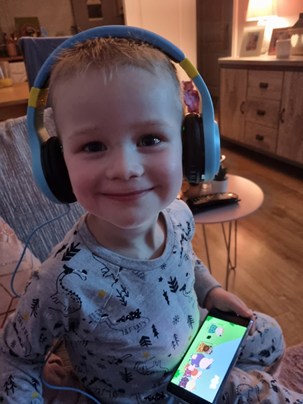 Kenzie will be four next month and is becoming such an independent little boy. He always wants to help mummy with the chores around the house and likes to do everything for himself. He even has his own little toy cleaning set.
Being a single mum means that it's just me and him at home, and this scares the life out of me. I constantly ask myself, "What if something happens to me? What if I fall down the stairs? How long would it be before someone came to help him? What if there was a fire or someone broke in and got to him first!" I know, I'm probably being overdramatic, but you need to be prepared!
All of these things run through my mind constantly, and I'm sure I'm not the only one that feels this way, so in this blog I wanted to share some of the home safety tips that Kenzie and I have in place.
Like most children these days, Kenzie is very into his tech and has his own iPad, tablet and even his own phone! So I used this to my advantage and set up some safety protocols that I have taught him to do if 'mummy fell asleep and didn't wake up'. Firstly, Kenzie has his daddy, nanny and auntie set up on his speed dial, and I have taught him how to call them should he need to (don't worry, he has no other numbers and doesn't have credit so he can't go randomly calling strangers - it's all set up via an app).
We also each have an Alexa Show (the device that has a screen), which Kenzie and I use at home. If he is playing in his room and wants to speak to me, he can just say, "Alexa, show me Mummy," and then he can see and talk to me on the screen downstairs. As well as using this for each other at home, I have also taught him how to use this to call his nanny if he needs to. He does this sometimes just when he wants to speak to her by asking, "Alexa, call Nanny." I have also taught him to do this if he can't 'wake mummy up'. By having the screen, it also means if Kenzie wakes up in the night and doesn't have his ears in I'm able to see him on the screen and use sign language instead so he doesn't feel alone.
As you probably know, cochlear implants are removed for sleeping, but this leaves Kenzie with no sound whatsoever at night. Although this can have its advantages as he gets to have a peaceful sleep without any disturbance from sound, it also has some risks. Firstly, it leaves him feeling very vulnerable, and he hates being on his own; in fact, he still sleeps in my bed the majority of the night (but that's a topic for another blog).
It also means he would not wake up to an alarm clock or a fire alarm. This again petrifies me, because what if I can't get to him? So I arranged for the local fire brigade to come to the house and fit a specialist system just for Kenzie. This includes a normal sounding alarm as well as a vibration under his pillow and a strobe light in his bedroom. The fire brigade and I have taught Kenzie that if this alarm goes off in the night and he feels the vibration and sees the light, he needs to run to me straight away. This allows him to have his own independence at night whilst also being safe.
The fire brigade could not have been more helpful. They are really supportive and explained everything in detail to both me and Kenzie. Kenzie also absolutely loves anything to do with emergency services, so he gets very excited when the fire engine turns up and he gets to have a look around. (Don't worry, I don't set the fire alarms off regularly, they have been out to do a check on the system!)
Kenzie also has an alarm clock that has the same vibration function: when it goes off, it will vibrate under the pillow. Although we're not using this yet, as he wakes me up way before any alarm is set to do, it will be something he can use as he gets older.
If you're looking at doing something similar in your house but not sure what will work best for you and your child, there are lots of support systems out there. You can contact your local social services who can come and do a home visit and recommend what devices may be needed (it was this service that recommended the fire system to me and also provided us with the alarm clock). They also have other equipment they can support you with such as a loop system for your TV.
The National Deaf Children's Society also has some great information on tech and equipment available and are always available to offer help and support if you have any questions.
The digital world we live in now opens up a huge window of opportunity, and I can't wait to see what other things are available to Kenzie as he grows older. I'm sure he will want the latest music systems connected to his cochlear via Bluetooth so he will have his own little silent disco.
He has already learnt that when he doesn't want to listen to me, he just removes the magnet from his head so he removes the sound, cheeky little monkey!