Kenzie's journey to independence
Published Date

: 18 Nov 2021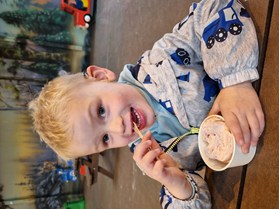 As Kenzie is getting older and more used to having his cochlear implants, he's becoming more independent in how he uses them and how they work. He's been able to reattach the magnet if it falls off for some time, but I'm now teaching him to loop the clip around his ear too, so he'll be able to pop them on himself soon.
He's also getting used to spotting signs there may be an issue with the device. He started saying: "Mummy my ear is parking," and he points to the ear he can hear that sound in. He'd tell me he can hear 'beep beep beep', like a reversing car! This means the battery is running out and needs replacing. Now Kenzie understands what this sound means, if he hears the beeping sound he says: "Mummy battery gone again."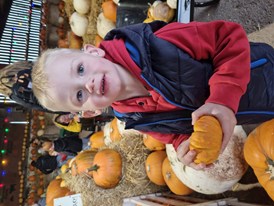 He now also chooses what volumes he likes things set at, such as the TV, music or watching a video on his computer. He will ask: "Louder please Mummy" or "Too loud, quieter please Mummy." This helps me so much as I've always tried to guess what volume level to have things for him, it's so amazing to hear him asking for things himself.
He also chooses the environments that he's comfortable with when it comes to noise levels. Kenzie doesn't normally find loud noises uncomfortable so can manage well in busy environments. However, sometimes he'll now ask to go somewhere quieter if he's struggling to hear me speak or the room is too loud. He will say: "Mummy, too loud, I can't hear you," so we'll move to a quieter place and he'll say: "Better now." If I'm driving in the car, he'll say: "Talk louder Mummy, I can't hear you."
Kenzie hates not wearing his 'ears' and doesn't like being without them, however as he's getting older, and now he's started school, he sometimes asks to have a rest and have his 'ears' off for a short while. Normally when he first wakes up in the morning, I'll ask him if he wants his 'ears' now and sometimes he'll say: "Five minutes mummy." Although I always stress how important it is to encourage wearing the devices all the time, I do also respect his wishes and let him make the decision for himself.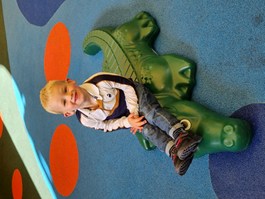 I'm so proud of how Kenzie has adapted to having his implants and how much he's grown and developed in using them himself. He's growing into such a cheeky, fun-loving character and makes me laugh everyday with the things he comes out with. For example, because he likes watching videos when he first wakes up, he woke me up this morning by saying: "Mummy I'm probably going to need your phone now!"
One of the hardest things I've found since Kenzie's diagnosis is having to make all the decisions for him. You're constantly questioning whether it's the right choice for your child and not knowing if it's the decision they would make themselves. Now Kenzie is more able to make choices for himself, it makes me so happy. I'm so incredibly proud of my little boy and the role model he is becoming for others.