Preparing for a holiday
Published Date

: 15 Jul 2021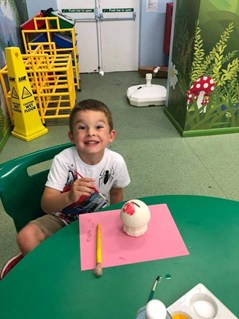 Whether it's a short break or a couple of weeks away, lots of us are finally planning a holiday this summer. Even if it's in the UK, we all need to plan for a break, including where we're going to stay, what we're going to pack and what we're going to do.
(To be honest, if it was just Oliver's decision, it would probably be stay at nanny's and play with the trains in the garden!)
But packing for Oliver shouldn't be much different from any other child, there are just a few extra things to think about.
We pack a night light as he likes a light on at night so he can see where everything is when it's dark and his hearing aids are out.
His favourite teddy (though all children like to take their favourite teddy on holiday!)
Extra batteries for his hearing aids, especially when going abroad. Many Audiologist centres will provide extra batteries in the UK. Just make sure you have a torch for when the batteries roll under the bed – this has happened to us on many occasions!
A cocktail stick for cleaning out the hearing aids (although a tooth pick from a restaurant is just as good).
An iPad/tablet is really good so Oliver can watch videos. We always take headphones for Oliver, he wears these over this hearing aids so he can hear better. Don't forget the chargers, the batteries run out pretty quickly.


We've found teaching your child some sign language is really good for when in a noisy environment on holiday. It doesn't have to be too complicated, for example 'Are you ok?' He can put his thumb up or down. Also: Why you sad? Are you hungry? Are you thirsty? Are you happy? It's also useful for when we're swimming and hearing aids have to be removed.
Some places are better catered for deaf children then others, but if you talk to the staff when you arrive and take the time to explain what you need, we've found them to be a lot more accommodating.
Routines are very important for many children and, when you go on holiday, it takes them out of their routine, especially for meal and sleep times. We find it best to try and stick to the routine of breakfast, lunch, tea and bedtime – it may work for some children going to bed later, but for many deaf children, they get tired and still need to go to bed at a reasonable time. It doesn't mean your child has to miss out, it means they're less tired the next day to enjoy the activities.
Holidays are a great time to go away and have fun with family and friends, especially after the year we've had. Whether it's a day, a weekend or a week or two away, it should be fun for the whole family.