Preparing my deaf child for the return to school
Published Date

: 06 Jan 2022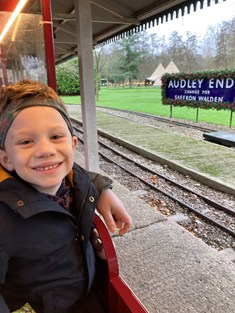 As much as we love the school holidays and the much-needed break, Isaac really struggles with the changes and lack of routine. The Christmas holidays are especially difficult for him as it's a very exciting time with lots of visitors, busy schedules, anticipation, and loud, noisy environments. He absolutely loves Christmas, like any child, but he has very noticeable struggles. We always make sure he has plenty of quiet downtime and a visual timetable, but this isn't always enough. As much as we love having Isaac at home, there's always a definite sense of relief when the time to go back to school starts to arrive, for both us and him. Isaac really loves school luckily, so we don't get any back-to-school anxiety or worries, which is a huge sense of relief.
We've learnt over the years to keep Isaac's bedtime routine the same during the holidays which always helps when it comes to the time to return to school. He's such an early riser, which means if he ever goes to bed after 7.30pm, he's a very overtired and grumpy boy the next day. The day before he goes back, we make sure he gets lots of fresh air and time to run around outside to help him fall asleep quickly. It doesn't always work, but we try.
Isaac's school use an app called Seesaw to communicate with us, so after any break I sit with him and we upload a few photos to show what he's been up to when he's been off. It's really nice for us to reminisce about the special times we've had together over the last few weeks, and he can then look at these with his teacher or 1-1 support when he returns. I'll also send a short email to his teacher to let her know how he's been and if there's anything she needs to be aware of.
The day before Isaac returns, I always make sure we do something nice and quiet as a family. Maybe we visit the beach or go for a long walk or bike ride. That way we can all return to our usual schedules knowing that we'd spent some real quality family time together.