Summer fun in our motorhome
Published Date

: 21 Jul 2022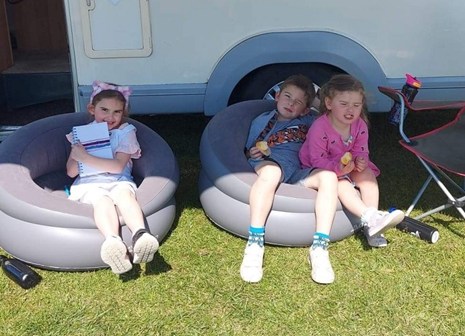 It's that time of year again, and after two summers where we have been very restrictive in what we could do and where we could go, it's so good to be out there once more with no masks!
That's one thing which has improved for Oliver: his teachers no longer wear masks, and although he had radio aids, it's always better to see their faces as he does a lot of lip-reading, and facial expressions are so important to all children – it's how they learn and develop.
So back to the summer fun. As we are taking the grandchildren to Florida next year, we decided this year we would take several short breaks. We find this easier in many cases for Oliver as he gets quite anxious when we go away. He's very excited of course, but he likes to know what we're doing, where we're going, and what activities we have planned, so regular three or four nights away work out well.
One of the places where we spend a lot of time in the motorhome with Oliver and his siblings is Brean in Somerset. It's only an hour from where we live, so not too far to travel.
We always get a pitch right next to the park where I can put out my deck chair and watch them all enjoying themselves in the park. Oliver can see me, so if we need to use sign language we can, which normally consists of me waving my arms in the air!
Oliver loves cycling, so we also take their bikes and cycle helmets, and we spend a lot of time cycling from park to park around the campsite.
The beach is only 10 minutes away, and when we go to the beach we make sure we have wet wipes just in case the sand blows into Oliver's ears, and we normally make sure the kids all dig downwind! Oliver loves playing football, so we always carry a spare football.
The motorhome is great as we can pack everything Oliver needs. We keep spare batteries for his hearing aids and toothpicks to clean them out if they become blocked. Oliver is familiar with the motorhome layout, so at night he has a little light on next to him just in case he needs the bathroom or a drink. He has a shelf to put his hearing aids on and knows where his iPad is ready for when he wakes up (extremely early!) so he can watch his favourite programme without waking the whole field up!
This year, a lot of people are finding the cost of living going up, so camping – whether in a tent, caravan or motorhome – is a cheaper way of spending a holiday.
The parks, beaches and football fields are all free, and the kids make such lovely friends when they are all playing together. By the time we go home, Oliver has made about seven friends and is arranging to see them next time we are down!