Five reasons why we chose to sign with our son
Published Date

: 03 Jan 2023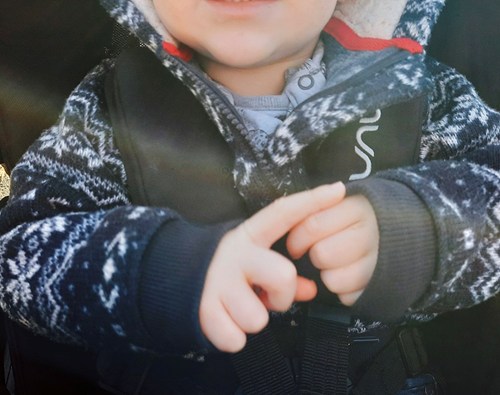 I'm hesitant to write this first line, but in the spirit of being honest (and hopefully representative of other hearing parents), here goes: before Lucas arrived in my life, I had never given sign language much thought. Sure, I knew it existed, but I had never met anyone who was deaf, and so sign language existed in the periphery of my mind – seemingly irrelevant to my hearing world.
As soon as we learnt that Lucas had a hearing loss, sign language came crashing like a freight train right to the front of our minds: unavoidably and instantly relevant. I've since set myself the task of completing British Sign Language (BSL) Level 2 by the time Lucas turns three, and I thought it might be useful to list out my top five motivations for learning and for teaching Lucas.
1. Lucas has so much to tell me
I want Lucas to tell me about his world, the things he can see and the feelings he's experiencing. Every day he points out and signs at least 15 birds, 5 planes and countless trees and cars, and that's so lovely. I want to meet him on his communication turf, and not put the burden on him to speak our language before he's ready. It's such a joy to watch him shape his words with his hands and to see his contented smile when he knows I've understood him.
2. We want to make new friends
I want Lucas to grow up with friends who are both deaf and hearing, and as it's very likely that some of those friends may use BSL as their first language, he will need those skills to be the best friend that he can be.
On a personal level, I've already met more deaf people in the past year than I've met in my whole life, and so I also want to be able to chat to the new friends I will meet along the way.
3. We want to give Lucas communication options
We chose to give Lucas the chance to develop speech from a young age with the use of cochlear implants. However, while this technology is truly impressive, it doesn't come with any guarantees, which means it's important to build multiple methods of communication within our family.
In the future, there may be times when Lucas doesn't want to wear his cochlear implants, for example, after a long day at school or when he's feeling poorly. There will also inevitably be times when they stop working. It's so important that our family can all confidently communicate with one another and be inclusive, irrespective of whether he's wearing his technology.
4. Sign language is captivating
I love watching people sign fluently – it's a perfect fusion of hand shape, expression and body movement. Spoken language doesn't have the monopoly on expression; there is emotion, emphasis, tone and pitch perfectly encapsulated in sign. It's physical and emphatic, raw and honest. Watching deaf performing artists and poets is such an experience. I would recommend looking some up on YouTube.
5. Learning BSL is enjoyable
As a mum to a one-year-old, my grey matter often feels like it's been held hostage in the Night Garden by Iggle Piggle, so it's such a joy to be using my brain and learning a new language and life skill.
I would highly recommend learning BSL even if it's not how you're choosing to communicate as a family. There are some great introductory courses available online or at local colleges. If you choose to do your levels, try to learn with a qualified, native BSL user, because your learning will be so much more rounded. Visit Signature or join the BSL - British Sign Language Facebook group which gives great advice too.
Lucas was my catalyst for learning, but he's no longer my sole motivation, and I'm pleased to say that sign language will never be in the periphery of my mind again. It's here to stay, and I'm the luckier person for it.