Apps to help you learn BSL
Published Date

: 28 May 2020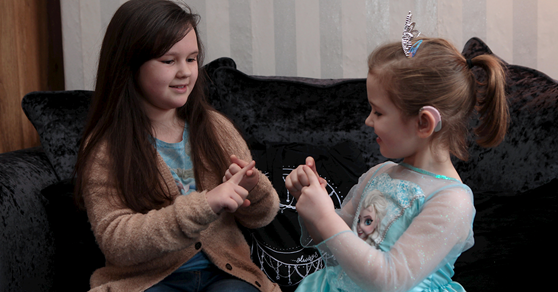 (Stock image)
With lots of us taking up new skills and hobbies in lockdown there's never been a better time to learn a bit of British Sign Language (BSL). Here we're sharing Joy's top tips on the apps that she's found most useful!
Sign BSL – This is available for Android and Apple devices and for free online at www.signbsl.com. It's a BSL dictionary that's a bit like Wikipedia in that anyone can upload their videos so the quality varies but you'll see some famous faces from the deaf community too, such as TV presenter Tessa Padden.
BSL Hands (One and Two) - This is a project by Deaf Active North West which aims to teach 60,000 primary school children the basics of sign language. This is available for Android and Apple devices. The instruction videos are easy to follow as they have related graphics and an English voiceover.
ITV Signed Stories - Unfortunately, this is only available on Apple devices, but it's a very high-quality resource. When the app is downloaded adults can then download signed versions of popular children's songs and books, priced from 99p to £3.99. It will also add signs from the books that you've bought into your personalised BSL dictionary. 
BSL Zone - which is available for free on Android and Apple devices. This is a brilliant high-quality resource where you can watch TV programmes for free that are presented in BSL with English subtitles and often with English voiceover too. The app includes some Deaf history programmes, chats shows with well-known faces from the Deaf community and the award-winning series 'Found' about how adults who were not brought up in the Deaf community joined it. 
Spread Signs - This app is a dictionary app which can be used on Android and Apple devices and online at www.spreadthesign.com. If you can't find a sign on the main BSL dictionary app then this can be a useful resource. You can also look up signs in different country's sign languages too.
Nursery Rhymes with Scarlett - This is available for Apple devices and on DVD. The signer uses BSL signs in the English word order of the songs (SSE).
We hope you find these apps useful and enjoy learning a few new signs!