Decorating your child's hearing aids or cochlear implants
The current range of NHS hearing aids and cochlear implants features a selection of colours, including bright primary colours, softer pastels, metallics and animal print. This is great news for children, who may not be as keen on the beige, brown and grey shades that adults often wear.
If your child wants their hearing aids or cochlear implants to be colourful, ask your audiologist about the range of shades or designs available for their model. If you can't get coloured options from your audiologist, there are ways you and your child can customise the technology.
Important information to know before decorating
Hearing aids are a long-term loan to you from the NHS and are not your property. If you damage them, you may invalidate any warranty the aid has. You may be charged for the repair if the NHS considers the damage to be due to your actions.
Make sure that any parts in the casing that need to remain uncovered, such as additional microphone ports or direct audio input contacts, aren't covered.
Don't glue anything directly onto the casing, or use paints or nail polish.
It's best to check with your audiologist about decorating your child's technology before you start.
Earmoulds
The next time your child has impressions taken for new moulds ask what colours are available. Earmoulds come in solid colours, marble effects, transparent with glitter and with logos or pictures inside, such as a favourite football team or cartoon character.
Removable tube decorations
You can add removable decorations to the earmould tubing – have a look at the Zizi's Ears website. Other options are charms and Tube Twists, created by a teenager and available through her website Hayleigh's Cherished Charms.
Hearing aid and cochlear implant covers and colours
Ear Gear comes in a range of colours for a variety of hearings aids and cochlear implants. These covers are removable and help protect the aids against moisture and dirt.
Skinit covers are available for the Cochlear Nucleus Freedom, Cochlear Nucleus 5, Advanced Bionics Harmony and Advanced Bionics Neptune sound processors.
Other covers for the Cochlear Nucleus 5 processor are available through Connevans.
The Advanced Bionics waterproof Neptune cochlear implant comes in a range of colours. A free app on the Advance Bionics website and Apple iTunes store allows you to design a Neptune with your choice of colours.
Stickers
Some manufacturers may give sheets of stickers the right size for their hearing aids.
Hearing aid and cochlear implant processor retainers and headbands
Retainers and headbands help stop hearing aids falling off. Suppliers include:
James's camouflage cochlear implants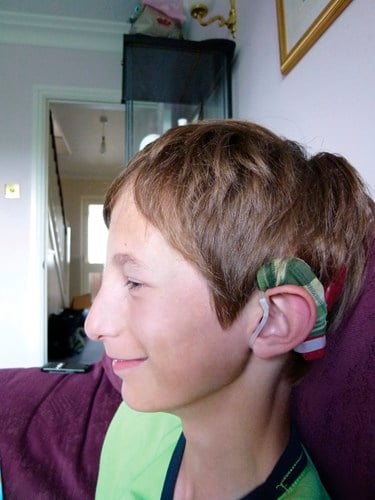 "James has camouflage covers over his implants. They are red at the moment, but he's had Dennis the Menace and the England flag."
Karen, mum to James (12).
Katy's Peppa Pig hearing aids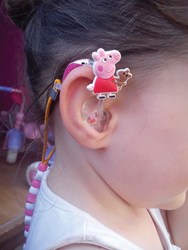 "We decorate the aids with nail foils and jibbitz (used for decorating croc shoes) as tube riders. We also use nail foils on the clip-on retainers and beads on the retainer strings. Nothing we add is glued on permanently and nothing covers the microphones."
Ashling, mum to Katy (3).
Klara's pink hearing aids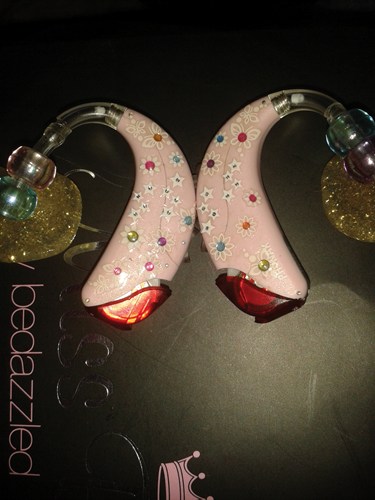 "I decorate Klara's aids with stickers, nail foils, beads, and tube riders, and she helps choose the ones she likes."
Michele, mum to Klara (7).
Daniel James's racing car style cochlear implants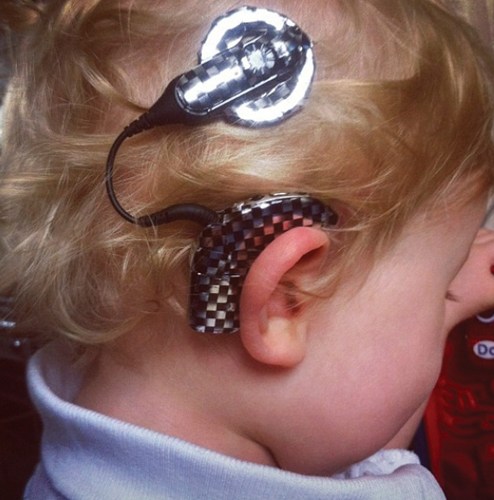 "We use nail foils and nail stickers to decorate Daniel James's implants. We get most of the foils from eBay, and recently we've found a lot of boyish colours and styles in Poundland.
We don't use foils that need acetone to remove them, as this would damage the implant, and we also keep the decorations away from the microphone."
Gemma, mum to Daniel James (2).
Gabrielle's pink heart hearing aids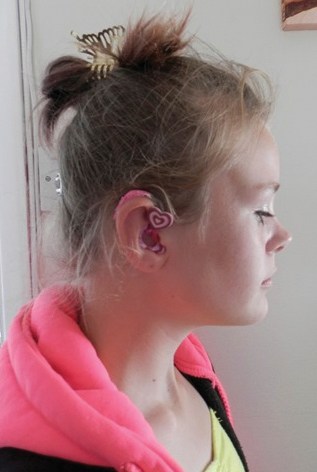 "We sometimes use stickers to decorate Gabrielle's hearing aids, but we mainly use nail foils. We also use Tubetastic Pimps – charms on tubes that slip on over the hearing aid tubes."
Sarah, mum to Gabrielle (13).
Toby's Simpsons cochlear implants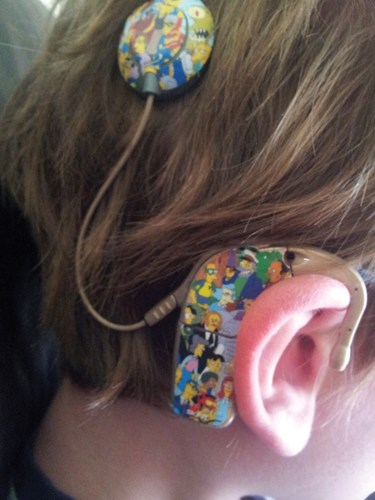 "Toby uses small stickers from craft shops as they are easily removed and don't leave any residue. He also uses covers from Skinit, which come from the US. They are durable and come in loads of designs – he currently has Simpsons covers!
We place the stickers in a way that makes it easy to separate the different parts of the processors. This means it's easy to change the batteries and ear hooks when necessary."
Nicola, mum to Toby (7).
Tanisha's decorated softband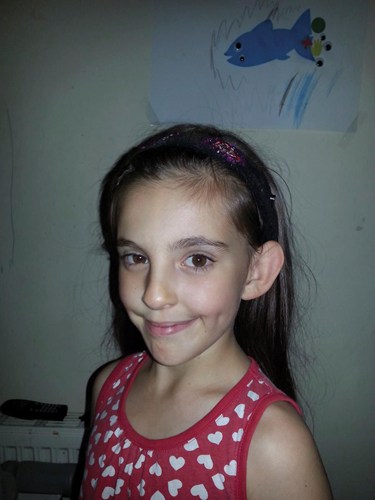 "Tanisha's bone anchored hearing aid came with a sports band with a Nike tick on it. She said it was bad enough having a box on the side of her head without having to wear a boy's headband!
She asked if she could put stickers on her softband, and I told her it wouldn't work. Instead, we bought iron-on motifs including hearts, ballerinas and the letters of her name. She placed the motifs exactly where she wanted them and I attached them by covering them with a tea towel and heating them with the iron for a few minutes.
Just make sure the design is only at the front of the softband and doesn't interfere with the microphone."
Deniz, mum to Tanisha (9).
---
Want to learn more about hearing aids?
Become a member for free, and we'll send you information about the topics you're most interested in – like hearing technology – tailored for you and your child.