A trip to Legoland
Published Date

: 15 Sep 2022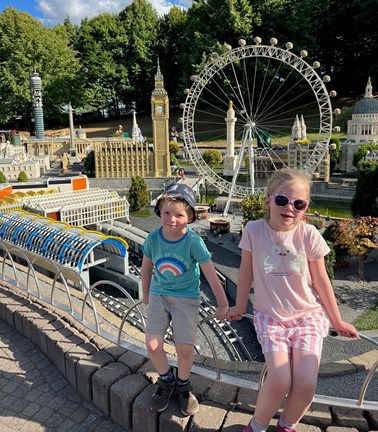 I've got a confession to make: I'm a Lego addict. As a child, I loved building my many Lego sets. And now, after a 20-year stint in my parent's loft, those same sets are being built by my own kids (along with the eleventy-billion other sets we have accumulated over the last few years…). After hearing great things about Legoland Windsor, we were keen visit in the summer holidays.
There had been a few things concerning us about the trip, mainly related to Sybil's deafness and cochlear implants. Theme parks can be really challenging environments for deaf children. Firstly, they're incredibly noisy! It seems like there are speakers around every corner, ready to blast you with music, plus noise from the rides and other visitors – not a great environment for listening. We also find indoor areas, such as indoor queues, ride loading areas, and indoor attractions really difficult. They too are very noisy, plus the lighting is often low, which hinders Sybil's ability to lip-read, and causes us difficulties signing. These areas can be frustrating for Sybil, as she just can't communicate effectively, which results in her becoming anxious and withdrawn.
We've been going on an annual trip to Alton Towers with the Cochlear Implanted Children's Support Group since Sybil was three, where they organise ride access passes (RAP) for the kids. This isn't a queue-jump – instead it's a virtual queue system, so you wait for a ride outside the queue, entering by a special entrance when it's your turn. To make things easier for Sybil, we decided to apply for a RAP for Legoland, which you apply for online ahead of your visit. Happily, it wasn't difficult to apply, and Sybil's Teacher of the Deaf wrote a supporting statement for us.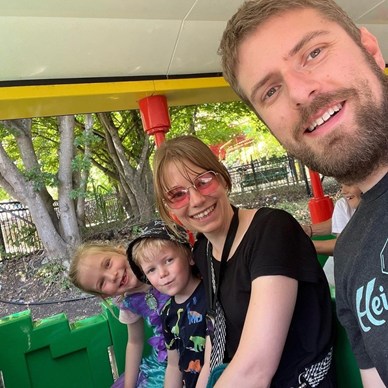 On the day of our visit, we headed straight to the RAP building at the entrance of Legoland. Our emailed instructions were to pick up Sybil's RAP card here, which would be valid for one year, and then we could go and enjoy the park using our smartphones to access the Reserve & Ride webpage. Unfortunately, picking up the RAP card turned out to be a pretty unpleasant experience. The queue for the RAP building was incredibly long, and we had to wait 45 minutes to pick up Sybil's card in the blazing sunshine with no shade. The queue was full of vulnerable adults and children, and their carers, who were understandably frustrated and upset. I don't know if we were just unlucky on the day we went, as I've heard from a parent-carer friend that the queue wasn't this long for her, but it wasn't a great start to our day.
Thankfully, from there, things improved. The Reserve & Ride webpage worked really well – you chose the ride you want to go on, and a QR code appears. You head to the RAP entrance, a staff member scans the QR code, and onto the ride you go. There is then a countdown timer on your phone, that corresponds to the length of the queue for the ride you've just ridden. After that timer has elapsed, you can choose your next ride, and head straight there. This was great for us – we cut out a lot of the overstimulating and communication-hampering indoor areas, and could spend our time virtually queuing in quieter spots.
We took Sybil's radio-aid system, which was brilliant at cutting through background noise so she could hear us clearly. We also took her cochlear implant aqua-kit so they wouldn't get water-damaged on the wet rides or in the splash zone. It's also worth taking your child's Disability Living Allowance (DLA) letter, which allows them a free ticket for their carer (you book the carer ticket online in advance, and show the DLA letter at the ticket office on the day).
Notwithstanding the bumpy start, we had a great and exhausting day. Our favourite rides were The Dragon and Lego City Driving School. Well worth a visit for Lego fans, and the kids can't wait to go back!