Cochlear implants
A cochlear implant is a type of implanted hearing device that converts sound into electrical signals. It is fitted during an operation.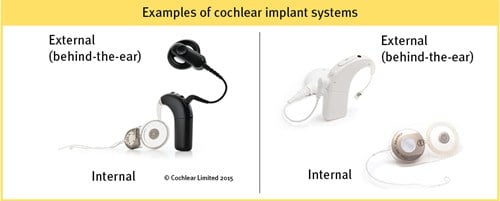 Cochlear implants have two parts – an internal receiver which is implanted surgically under the skin behind the ear, and an external part which is worn like a hearing aid. This part is known as a speech processor and includes the microphone.
Who is a cochlear implant suitable for?
Cochlear implants are usually suitable for children with a severe to profound permanent deafness who gain limited or no benefit (can't hear speech sounds) from their hearing aids.
At what age can my child have a cochlear implant?
In general, the evidence suggests that the younger a child is when they receive their cochlear implant, the more likely they are to get the most benefit from it. Although it's important to remember that it takes time to find out the exact level of a child's hearing loss and to assess their suitability for a cochlear implant. It's now common for children to be implanted before 12 months of age.
Older children can also benefit from cochlear implants, including those who have become deaf after learning to speak (for example, following meningitis), as well as those who have a progressive or acquired hearing loss and receive less benefit from their hearing aids.
How can my child be referred for a cochlear implant?
If you haven't been offered a referral, but think your child may benefit from a cochlear implant, and would like to find out more, ask your child's audiologist, ear, nose and throat (ENT) consultant, paediatrician, GP, or audiovestibular physician for a referral.
---
Want to learn more about cochlear implants?
Become a member for free, and we'll send you information about the topics you're most interested in – like hearing technology – tailored for you and your child.