Live chat
Live chat is our free, online service for you to contact our Helpline team easily. We are here to support deaf children and young people, their families and the professionals supporting them. Simply click the button below to start chatting: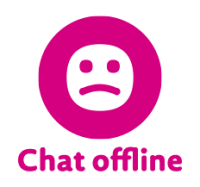 We are available to chat Monday to Thursday, 9am to 5pm and Friday 9am to 12:30pm (excluding bank holidays). There may be times within these hours that we are offline for staff training. If this is the case please check back later or send an email or text for us to pick up when we are back online.
We give free independent information and guidance on a range of topics relating to childhood deafness. Please see the Helpline page to view a list of topics we can help with.
At the start of the chat we ask for a few details – your name, email address and postcode. This information helps us to sign post you to further support in your area or send you follow up information if needed.
Sometimes, your question may take more time to answer, as we may need to do some research or seek further advice. We will keep you updated in the chat and let you know if we need to come back to you at a later date.
All chats are completely secure and confidential.