Interpreter
Mark Hetherington, an interpreter who works with deaf young people, shares his insights.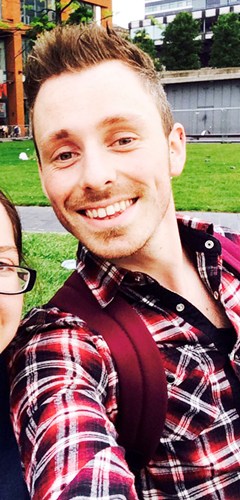 What does an interpreter do?
The main function of a British Sign Language (BSL)/English interpreter is to support effective  communication between deaf and hearing people. Because BSL is part of Deaf culture, there are also other cultural differences which must be communicated correctly. 
Who might benefit from an interpreter?
Everyone and anyone, circumstances permitting. When you're a deaf young person I think using the services of an interpreter can be very empowering, as it allows you the independence you should rightfully have. Sourcing an appropriate and qualified interpreter means the deaf young person no longer has to rely on family or friends to communicate for them – they can take charge of their own
communication.
How do deaf children and their families get access to an interpreter?
For deaf children and their families, accessing an interpreter can be confusing. I would encourage families to approach a registered interpreter with the National Register of Communications Professionals working with Deaf and Deafblind people. This means that they work under a code of ethics around confidentiality and hold appropriate insurance.
What made you decide to follow this career path?
My exposure to sign language and subsequently my career as an interpreter was very happenchance. I was born and grew up in Northern Ireland and when I was 15 I began learning Irish Sign Language. My intrigue to learn was a result of a school friend's parents being deaf. I completed my level one in BSL when I was 17 and I knew I wanted to continue learning the language. As a result, I progressed
on to university where I began my journey to become a qualified interpreter.
In what ways have you worked with deaf children and young people?
I've been fortunate enough to interpret for residential trips all over England and in Scotland where deaf young people come together to socialise, learn about their identity and develop new skills. In my regular work I've interpreted for weekly deaf youth groups and clubs and in schools, colleges, universities and during their apprenticeships.
Can you pick out a highlight of your job?
Being an interpreter has opened up so many doors for me and has provided me with some wonderful experiences. I've travelled to places I never thought I'd go, I've interpreted for some of my closest friends during their wedding and I've had insight into a whole other world with its own language, community and culture. There are so many highlights making it impossible to pick just one.
What are your top tips for communicating with deaf children and young people?
Encourage them to take control of their own communication. Give them the tools they actually need, rather than what you think they need, to effectively communicate. Allowing deaf children and young people to choose their own communication preference can be incredibly empowering for them.