Ear, Nose and Throat (ENT) consultant
Patrick Sheehan, an Ear, Nose and Throat (ENT) consultant, shares his insights.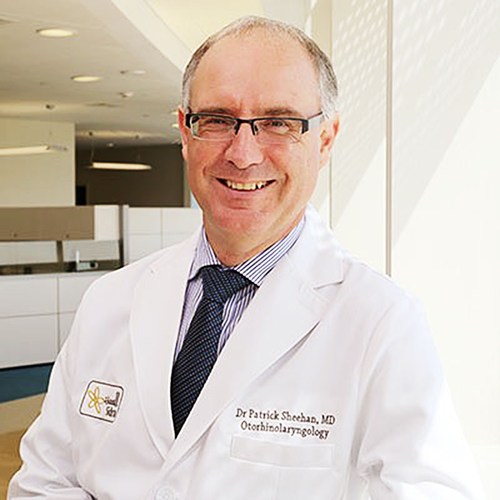 What does an ENT consultant do?
We train as doctors but then further train to be ENT specialists. We treat conditions that affect the  ears, for instance ear infections, or conditions that affect hearing, like glue ear. We also treat nose, throat, voice box and neck conditions.
We always try to treat a condition with medicine first but sometimes we need to do surgery. Therefore we're often referred to as ENT surgeons. 
What attracted you to specialising as an ENT consultant?
We can be operating on tiny places in the ear or large problems in the neck or throat. Not many other specialties can say that. We're also a specialty where we treat children as well as adults. The problems of a child and an adult can be very different. It's a great specialty to be trained in. 
What is a typical day in your job like?
As a surgeon I could be in the operating room in the morning maybe doing up to six operations and in the afternoon I would be in the clinic in a hospital seeing up to 20 patients and considering who can be treated with medicine and who needs an operation. I usually have a day in the week for research.
How can a family prepare for a meeting with their ENT consultant?
Don't be scared. We're very friendly – I like to think we're the friendliest of all the surgeons! My advice is to think about your symptoms or deafness, so when the doctor asks you questions you can answer them in as much detail as possible.
For example, when did you first notice you were hard of hearing? Are there any other symptoms like a problem with noises in your ear (tinnitus)? Do you have problems with balance? Is there any leakage of pus from your ears? 
What are the best and most challenging parts of your job?
As a surgeon we always like to be doing operations that we know will improve the life of a child or adult patient. It's so rewarding to do an operation even as simple as grommets and to come back to the ward and have the parents say they've noticed the child can already hear better.
Or to give someone who has never heard before a cochlear implant and to watch the reaction when they hear a sound for the very first time.
The most challenging is the long waiting times our patients face after being referred to ENT via their GP.
What one thing do you wish families knew before they met you?
I think that even a small degree of hearing loss can have an impact on a person's life. For example, glue ear may be the cause of a child not doing so well or being introverted in school; it can also affect their speech and language development.
So if you suspect your child has a hearing loss ask your family doctor for a referral to the ENT clinic for a hearing test as soon as possible.