Supported every step of the way by becoming a member
Published Date

: 08 Jun 2022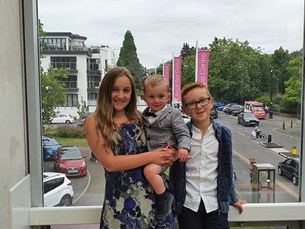 When Emma was told her son Bobby was moderately deaf, she felt extremely vulnerable. On top of Bobby's diagnosis, Emma was also being supported by the perinatal mental health team due to severe peri and postnatal anxiety.
When all hope seemed lost, Bobby's audiology team signposted Emma to our membership. Emma describes it as a game changer for the whole family:
"There's nothing worse than being anxious, terrified, emotional and feeling alone, but the National Deaf Children's Society taught me that we never have to be alone. They have supported us at every single step – I would be lost without them. The National Deaf Children's Society has been a game changer for us.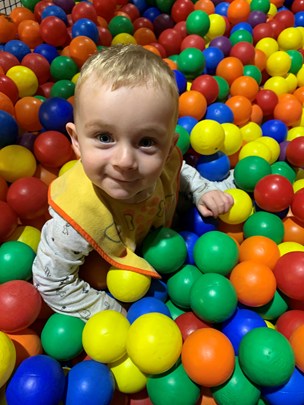 "They helped me accept that it's OK to be frightened. They taught me that crying about Bobby's diagnosis wasn't a weakness, it was a reaction of pure love for my baby. That was magical and empowering!
"They helped me remain calm and not panic about having no face-to-face appointments during the pandemic. This kind of support was just as important as the support specific to his diagnosis."
Due to COVID-19, we adapted our events so they could take place online. This meant we could offer more families than ever the opportunity to attend sessions tailored to their child's ages and stages. Emma, Bobby and the rest of their family took full advantage of these sessions. Here's what Emma has to say about them:
"I worried that Bobby wasn't deaf enough for me to join the events, however the response from the Events team was: 'You, Bobby and all the family are more than welcome – all deaf children have a home here.'
"The National Deaf Children's Society helped us understand Bobby's deafness. They gave me support with all aspects of Bobby's development from deafness in general to sleep advice. I was worried about him not wearing his hearing aids, but they reassured me that everyone faces this issue.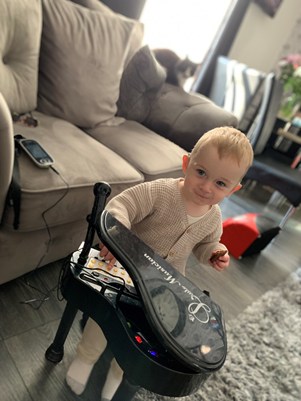 "Even though Bobby was only 11 weeks old, I was already panicking about how he'd cope with school assemblies and whether he'd be bullied. I was able to talk openly about my worries. They also taught me practical things like changing the tubing on Bobby's hearing aids."
With a 9 and 12-year age gap between Bobby and his siblings, the baby stage was 'new' again for Emma. She was worried about asking friends with hearing children about some of the things playing on her mind following Bobby's diagnosis. Our events allowed Emma to connect with families going through the same thing as her.
"The members' events gave us the chance to speak to other parents just as frightened as us. I now feel hopeful and I actually feel lucky that Bobby being deaf means WE have this network.
"I kept in touch with a few parents we met at events and hope to keep the relationships going for us and the children. This peer support was founded and inspired by the National Deaf Children's Society, and it's lovely."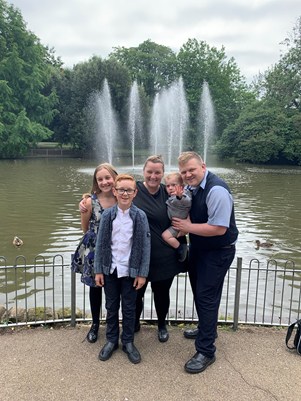 We asked Emma if she would recommend our membership to other families who have a child with a hearing loss. This was her response:
"The National Deaf Children's Society staff are genuinely passionate about what they do and that shines through. They are professionals and I trust them implicitly. They have helped us to see that Bobby has the right to be included, accepted and allowed to be whoever he wants to be. Since becoming a member, my fears about the future have disappeared. And membership is free so there's no cost to worry about.
"The National Deaf Children's Society make me feel very lucky, not only to have Bobby, but to have them too. They make such a difference and are having a hugely amazing impact in this world."
If you have a child with a hearing loss or know someone who would benefit from our support, take a look at our membership benefits or become a member now.