The sound of music
By Kim Hagen (Technology Research Officer)
Ariana Grande, Katy Perry, Ed Sheeran. Inclusion, fitting in, friendships. What's the link between these artists and social wellbeing? The answer is music. Being able to listen to the same tunes as friends can be really important to deaf children.
Music has proven success with reducing stress, helping you sleep better and improving your mood, so it can be really beneficial. How your child can access music depends on their level of deafness and the hearing technology they use. There's a wide range of products available, ranging from deaf-specific to mainstream and from cheaper options to more advanced and costly products. Below I talk about popular deaf-specific technology products that can help your child listen to music.
Direct input leads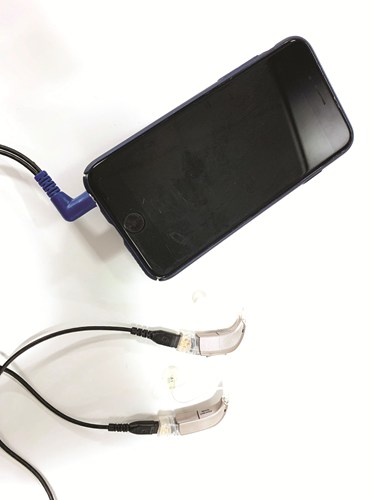 Many children who use standard behind-the-ear hearing aids or cochlear implants, without integrated radio aid receivers, can use a simple piece of technology called direct input leads to listen to music. Direct input leads are a bit like earphones; they have a standard 3.5mm plug that plugs into most phones, laptops and tablets. However, instead of the other end going into the ear,
you plug it into your child's hearing technology using a little adapter piece called a shoe. Your child may already have a shoe if they use a radio aid with Roger X receivers. The shoe your child needs will depend on what hearing technology they have.
For example, I have Oticon Spirit Synergy hearing aids and need an FM9 shoe to connect a direct input lead. You can borrow direct input leads and shoes from our Technology Test Drive free of charge and we can advise you on what shoes your child will need. Do note though that a shoe cannot be attached to your child's hearing technology if they have integrated radio aid receivers.
"My son wanted to try these leads as it made him look like his older siblings listening to music using their phones and iPads. It provided the rest of the family with some peace and quiet too! They're easy to use and enabled him to hear his iPad more easily in noisy environments and during car journeys."
Julie is mum to Adam (11) who is moderately deaf and wears hearing aids.
"They're especially great if you've had a late diagnosis because the sound quality is very good. For me, the best thing is they just plug in as normal earphones do. If friends want to share videos or music, it's easy and they don't have the 'Oh listen to this,' *sees hearing aids* 'sorry I forgot!' thing."
Kirsty (17) who is moderately deaf and wears hearing aids.
Music-Link earhooks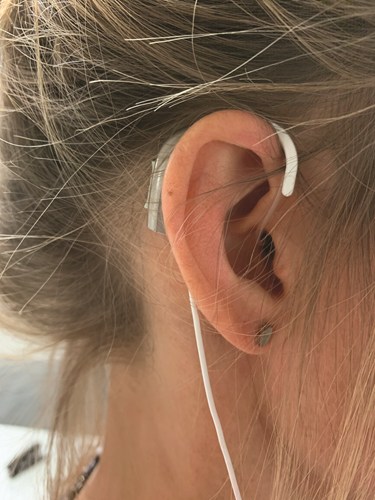 Earhooks can be used with all behind-the-ear hearing aids and cochlear implants that have a processor on the ear with the T-setting activated. This setting is sometimes also referred to as the telecoil or loop setting. Most NHS hearing aids provided for children have a telecoil built into them. For younger children the setting is not always activated but you could ask your child's audiologist to switch it on. Earhooks have a standard 3.5mm lead that plugs into most phones, laptops and tablets. On the other end they have a little hook that sits over the ear. It works like a hearing loop system; when you switch your child's hearing technology to the T-setting they should be able to hear the music played on the product the lead is plugged into. You don't need special adapter pieces or other equipment for earhooks, but on the downside I do find the hooks are a bit prone to breaking, so take care they don't catch on things.
"Heather was able to listen to her music on her iPad. This product has given her the confidence to use her phone around her pals. She now feels she's like all the other girls."
Keryn is mum to Heather (10) who is profoundly deaf and wears hearing aids.
"They're nice and simple. You plug them into a phone, computer or anything else and put the hooky bit over your ear. Then you can hear things without interrupting other people. It helps me in my day-to-day life.
Anwyn (17) who is severely deaf and wears hearing aids.
Streaming products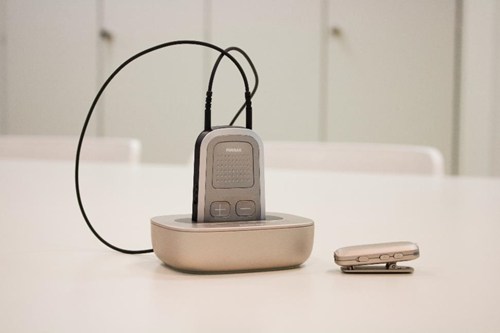 You may not be familiar with the term 'streamers' but you might have heard of the Phonak ComPilot II, the Oticon Connectline, GN ReSound Multi Mic, the Advanced Bionics Naída CI Connect or the Cochlear MiniMic 2 . These are products that link to particular types of hearing technology and make using TV, mobile phones and tablets easy for deaf children. Each streamer is slightly different and in most cases a manufacturer's streamer only works with that manufacturer's hearing technology. For example, I can only use the Oticon Connectline streamer with my hearing aids. Streamers are multifunctional pieces of technology but are pricier than direct input leads and earhooks.
You can also listen to music using a radio aid, over-the-ear headphones or via direct connectivity. For example if your child has the Cochlear Nucleus 7 cochlear implant they can send music straight into their cochlear implants from an iPhone.