Technology to take you from nursery to university
Deaf children and young people face extra barriers in the nursery playroom, classroom and lecture hall, but there's plenty of technology which can help make things easier. Here, we've picked out a few products you might not have heard of.
Nursery
The Damson Cisor wireless vibration speaker is a great piece of technology for nursery. It's a rechargeable portable speaker that sends vibrations through the surface it's placed on, amplifying the sound and also allowing children to experience music through vibrations. It can allow deaf children to join in with sing-and-sign sessions or enjoy music that other children are listening to. Go to www.damsonglobal.com for more information.
Tom, dad to Charlie (3), who is profoundly deaf and wears cochlear implants, used the speaker at his local group for deaf children.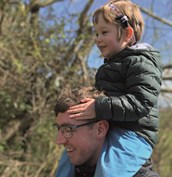 "At the group, they had a vibration speaker which they made more accessible for all the children by placing it in an empty plastic bin. The vibration through the bin was so powerful and varied that our son properly got to enjoy music for the first time.
Charlie has always been interested in facial and visual cues but the vibration speaker really awoke his sense of touch."
Primary school
When your child starts primary school, they'll be thinking about making all sorts of steps in the direction of independence. One of those might be staying in their bed all night or waking up for school at the right time. Spending all day in a noisy environment at school may lead to your child's sleep becoming disrupted. The Groclock Sleep Trainer can be a useful way to help deaf children stay in bed all night and wake themselves up at the right time.
The clock's sun and star display will show your child when it's time to wake up, with the stars disappearing one by one as it gets closer to the morning. When it's time to get up, the screen will change from blue to yellow and a sun appears. It's common for deaf children not to hear other family members getting up so they may find it hard to know when it's time to give up on sleep, or may lie feeling anxious or wake up too early. This clock could help with that. Read mum Nicky's review of the clock on page 32 of the autumn issue of the magazine.
Secondary school
Conversor's digital microphone streams voices directly to a person's hearing device via a loop receiver worn around the neck. It's similar to a radio aid, but the equipment actively cancels out background sounds to help students hear more clearly in noisy classrooms. They also produce Script products – portable tablets which convert speech heard by the microphone automatically into text.
In practice, this means the teacher will wear the wireless microphone, their voice will be transmitted to the user's hearing device via the neck loop, and at the same time the Script will convert their speech into text so the student can follow what's being said in real time. They can also be connected to a projector or electronic whiteboard so the live captions benefit everyone in the room. Visit
www.conversorproducts.com for more information.
Toby (15), who is profoundly deaf and wears cochlear implants, used the Conversor Script 10 at school.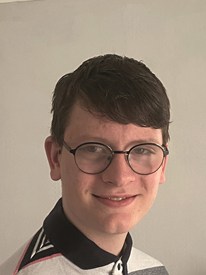 "I loved the ease of charging the receivers. Their charging ports double as a microphone jack, and the charging cable could charge two receivers
at once with fast charging times.
In school, the transcript has been great. My only negatives are the Wi-Fi and accuracy of the transcript. Using it for a couple of weeks has meant that voices have started to be recognised and picked up though, so the negative does turn into a positive. Without Wi-Fi, you can't use the transcript which means that bringing it to places where there is bad Wi-Fi won't be very useful! I have struggled using the receivers as much as the Script as I prefer the audio quality
on my Roger radio aid. For people who have hearing aids or someone younger, the receivers would suit them better."
Further education
Speech-to-text technology has improved and increased in popularity in recent years. While it's straightforward to download a speech-to-text app to do this, for the lecture hall these might not always provide an accurate enough transcription.
Note Taking Express have worked towards a solution to this. They've designed an in-class smart camera which captures and streams lecture content to remote notetakers and students at the same time. Captions come back in real time and are around 97 to 98% accurate. The service can also generate transcripts and summary notes of short concise bullet points for the deaf young person to refer to later, without having to read through pages of transcribed speech. At the moment it's primarily being used in the US but is gradually being introduced to the UK. To find out more, visit www.notetakingexpress.com.
To find out more about technology that could help your child, visit the technology section of our website.