Teacher of the Deaf Week
Published Date

: 28 Nov 2019
Teacher of the Deaf Week was 18-24 November and our supporters got involved by fundraising for us with the Fingerspellathon and sharing stories about their brilliant Teacher's of the Deaf!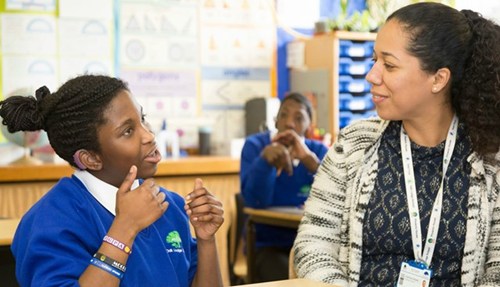 Here's what some of you had to say:
Our Teacher of the Deaf is fantastic. She really helps us with practical ideas which always work well. She's really friendly and is great with our son. I must also mention that the Teaching Assistant we get from the same service is truly outstanding, our son just loves the sessions with her. We'd be lost without them. Craig Warkman
Our Teacher of the Deaf is just unbelievable. The advice, support, help she has given us over the last 5 years has been amazing. I honestly wouldn't have coped at times without her. She's just become such a good friend over the years too. Jayne Cochrane
Our Teacher of the Deaf has started running assemblies just for the deaf children in the school where they will explore and learn about their own hearing loss, discuss equipment available and look at Deaf role models. She's wonderfully happy and friendly and the children adore her. Kristin Harvey
We have a wonderful teacher of the deaf. She has supported all of us over the most difficult first 2 years. It is so hard to know what to do for the best when you get told your baby is deaf. She has made everything easy and with her wealth of experience and has provided many great strategies for home and nursery to help Lewis (my son) achieve his absolute best. He is growing in to a confident, crazy and chatty young man and I don't know how we would have got here without her support! Susan Selfridge
My daughter's Teacher of the Deaf is an angel. She always fits us in, often in her lunch hour. She often rings well after she should have finished for the day. She will go out of her way to drop hearing aid batteries off or a much needed report. She most definitely works above and beyond and we are very grateful to her. Joann Oakley
Keen to celebrate your Teacher of the Deaf? Visit our webpage for a colour in certificate, fundraising ideas and to find out more about how you can support our campaign for more fully qualified Teachers of the Deaf across the UK.
If you're keen to increase deaf awareness in your children's school, why not sign up for a fundraising, fingerspelling bee with the Fingerspellathon! Help improve your children's signing and spelling skills, whilst raise funds for to support deaf children across the UK! Get in touch with [email protected] for more information.