Westminster Hall debate on deaf children's services
Published Date

: 13 Sep 2018
Deaf children were at the heart of Parliament today when MPs debated the crisis facing deaf children's services across England. There was lots of passion and commitment in the debate and a wide range of different points were raised, including:
the pressures that local authority budgets are under – with over a third planning to make cuts to specialist education services for deaf children this year. Whilst government funding may be at a record high, the reality on the ground is clear that it's not enough
the need for more flexibility in how SEND funding can be used. Local authorities don't have the same flexibility they used to have to move funding from schools where needed to respond to growing pressures
the dramatic decline we've seen in numbers of Teachers of the Deaf over recent years, and the need for urgent action to address this. Many MPs spoke of the important role that Teachers of the Deaf play, particularly in the early years.
the importance of meeting the needs of deaf children who use sign language, and the need for the Government to support the development of a new GCSE in British Sign Language
the need for high expectations for every deaf child, and the scandal that too many deaf children are not achieving their potential, because they're not getting the right support.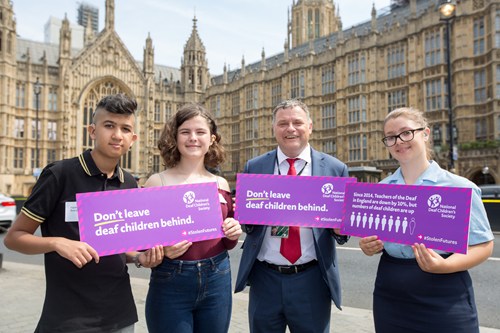 The most powerful moments in the debate came when MPs talked about the experiences of families from their own areas. Peter Aldous MP praised Ann Jillings for her campaign work, whilst noting that she shouldn't have to fight in the first place for her son Daniel to get the help he needs. Another MP, Darren Jones, talked about Ella, a bright confident deaf young person whose needs were often being overlooked because she seems to be "doing well". And Emma Lewell-Buck MP spoke sadly about a young person who feels "left out" and "depressed and frustrated" because his school is not providing the support he needs.
We were hoping for positive words and action from the Minister, Nadhim Zahawi. But, while he indicated that funding was being kept "under review", there was little else for us to go on. Frustratingly, there was a run-through of all the different bits of funding that the Government has in this area. All of this missing the point that a) it's not enough and b) often this funding is not aimed at front-line staff who support deaf children. For example, there's still no money out there focused on making sure we have more Teachers of the Deaf coming through the system.
So, the Stolen Futures campaign goes on, and we'll keep on raising these issues with the Government until they take action.
We'd like to thank all MPs who spoke in today's debate, especially Jim Fitzpatrick MP who led the debate and continues to champion the needs of deaf children. We'd also like to thank all the deaf young people and families who got in touch with their MP to share their experiences. This debate wouldn't have been half as powerful without your stories.
PS: You can read the full transcript online.