39,000 people call on Government to protect Teachers of the Deaf
Published Date

: 09 Sep 2019
When it comes to campaigning, we like to think outside the box. On Tuesday, with our bright placards and colourful container, our brilliant parent campaigners, deaf children and young people walked into the Department for Education to hand in a petition with one clear ask: save specialist support for deaf children.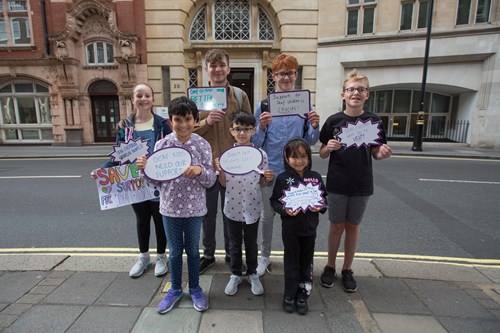 Such an event would not have happened without our incredible local groups – teams of passionate parents of deaf children who have said enough is enough when it comes to cuts to Teacher of the Deaf support. Campaigners from deaf children's societies in Waveney, Tyneside, Surrey, Lincoln, South of Tyne & Wearside, Peterborough and North London set up the petition, which was signed by 39,439 people.
I'll never forget what happened in the waiting room of the Whitehall building. Suzanne Lunn, a deputy director responsible for special educational needs and disabilities, sat on one of the leather sofas, listening attentively to families and deaf young people who had directly benefitted from Teacher of the Deaf services. Daniel, a deaf young campaigner, told Suzanne: "We can achieve things, but we need support."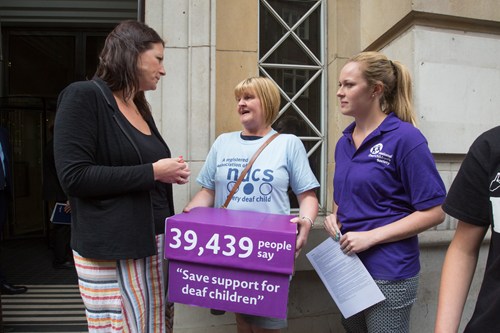 It's always an incredible moment when deaf children and young people get to speak directly to those who make the decisions which affect their lives, and it's certainly the most powerful way of pushing for change. Suzanne left with a long list of names in her hand, copies of our latest research, and countless stories about the struggles families of deaf children have faced. We hope to meet with her again soon to talk about some of our proposals.
In keeping with the theme of hearing directly from deaf children and young people – as well as their families – here's what campaigners who attended last week's petition hand-in event had to say about the day…
"It was really nice to see so many Deaf children and their parents come together to tell the Department of Education about what support Deaf children need. It was really interesting to see their stories and I hope that there will be more events like this" – Daniel, deaf young campaigner.
"I'm really pleased [Suzanne] was persuaded to allow the deaf children into a quiet space to allow them to share their experiences with her and to explain why resources need to be allocated to Deaf education to improve their life chances" – Catherine, parent campaigner.
"It was a privilege to be part of the day and to speak directly to [Suzanne] about why parents had set up the petition. With the encouragement and support of the wonderful National Deaf Children's Society team, several young people and parents were able to share their experiences, and this gave the hand-over an added impact. For me, this part of the day was a very powerful reminder about why the National Deaf Children's Society's campaign work is so important, as we are speaking out for our children's futures" – Ann, parent campaigner.
If you want to know more about our local and national campaigns, sign up to our Campaigns Network today.