Why the Government needs to invest in Teachers of the Deaf
Published Date

: 06 Sep 2019
As a deaf adult, one of the more depressing elements of my job is working on reports and analysis on issues in deaf education. And perhaps the most depressing stat of all is the one that shows there's been a 12% fall in the numbers of Teachers of the Deaf in England since 2011.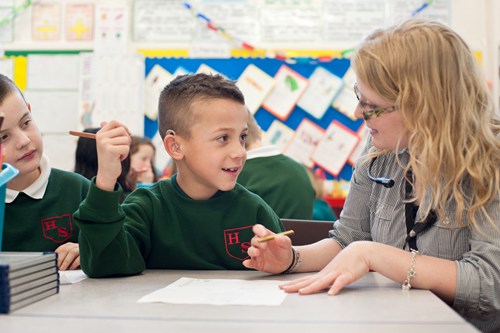 This 12% fall is happening at a time when the number of deaf children is going up, and when far too many are still underachieving compared to their hearing peers. We get regular reports these days of support being rationed in many areas, particular for children who are perceived to have 'lesser' needs.
The role of Teachers of the Deaf is sometimes misunderstood by others. In my eyes, they should be seen as being at the forefront of early intervention for deaf children. No-one else has as much expertise and specialism to provide deaf-specific advice to families on language and communication in the early years. Or to provide advice to early year settings and mainstream school teachers on what effective inclusion looks like.
A world in which there are fewer Teachers of the Deaf is likely to result in more:
parents of deaf children struggling to communicate with their deaf child
deaf children starting school with poor language
mainstream teachers struggling to include deaf children in the classroom or knowing how to use hearing technology
local authorities falling short of their legal responsibilities to ensure any Education, Health and Care plans for deaf children are informed by the views of a Teacher of the Deaf
Teachers of the Deaf can be seen as a solution to the 'low-incidence challenge'. With deafness being relatively less common, most mainstream early year settings and schools may only occasionally come across a deaf child. It's unrealistic and naïve to expect mainstream early year settings and schools to retain specialist knowledge around deafness.
All of this is not to say that every Teacher of the Deaf is perfect. They should be held to account for what they do in the same way as every other teacher. But I'm pretty clear I wouldn't be where I am today without the support I growing up, and I don't want to live in a world where this kind of support is down to pure luck.
So what to do? Well, the one big thing that the Department for Education in England can do is invest in a bursary scheme for new Teachers of the Deaf. We estimate that £1.3m would pay for over 160 teachers to be trained as Teachers of the Deaf. Working with the British Association of Teachers of the Deaf, we've been working on a proposal for the past few months and we've just resubmitted a new proposal for the new Children and Families Minister to consider.
If you agree, you can ask your MP to show their support for a new Teacher of the Deaf bursary.
We've worked hard to take into account the government's feedback over recent months, and so we hope this new proposal will get a positive reception. It's a relatively small amount of money that would help make a big difference to deaf children.