The blurred lines of being a sibling carer
Published Date

: 29 Jul 2021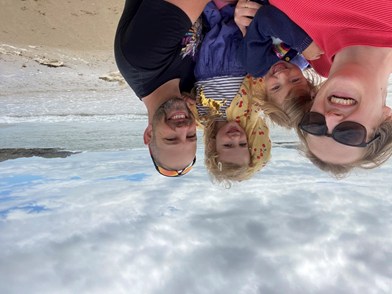 I have 38 years experience of being a sibling, twice over. My relationships with my sisters are very different and have changed over the course of my life. I've been a parent for five years and a carer for four, for my daughter Olive. I have no idea whatsoever about being a sibling to a child with a disability, but I watch my daughter Connie do it everyday.
Being a carer (or a parent) requires many hats - advocate, therapist, teacher, negotiator, cook… But that's not usually the role of a sibling.
In addition to her deafness, our youngest daughter Olive has a physical disability which means she relies on others for dressing, changing, moving around and communicating. She's very clear about what she wants, but she can't always show this in a way that others can understand. As her parents, my husband and I also take on the role of being her carers and often have to act as her advocates to make sure that what she wants and needs is shared with the team of professionals supporting her. Sometimes we even have to interpret her speech or signs to family members, friends and other children.
But sometimes this falls to her sister, Connie, as well. Connie is five and Olive is four. Their future lies ahead of them and that's something else that, as a carer, is uncertain for us. How do we handle Connie's role as a carer for Olive? How do we make sure she doesn't feel responsible, whilst hoping that she might want to be there for her sister if she's ever needed?
I have watched my two daughters grow together these last few years and there have been some very typical moments. For example, Connie, aged two, drawing on furniture or knocking over a bowl of food and saying, 'Olive did it!' while Olive sits in her chair, 10 months old, and unable to move to the other side of the room. More recently, I heard shrieks of excitement and giggles and came in to find Connie sat on Olive's back, shouting, 'Come on horsey, giddy up!' while Olive's face squashes into the floor and she squeals in delight and fits of laughter.
There are also moments that are less familiar to other families. Avoiding going to the park because Olive can't access the equipment there so I have to tell Connie that, even though she loves it, we can't go into the play area because it's not fair on Olive. Or explaining to Connie that, since about the age of two, she has to wait for Olive to finish her dinner, which can take up to an hour, before she has her pudding. Before you think how mean we are, Olive takes a long time to eat dinner and if she sees Connie eat pudding, she won't eat her mains and then she definitely won't sleep… And then everyone's night is ruined… Or Connie going into school tired some days, because Olive has been up for hours shouting and crying.
It's totally heart-warming to see Connie want to care for her sister. This evening, I got up to get something from another room and Olive had been leaning on me. Connie quickly sat in my seat and said, 'I'll hold her Mummy,' and Olive snuggled in beside her. We don't expect this from Connie, and we often say, 'it's not your job to look after Olive,' because we don't want Connie to feel obliged to mould her life around Olive. But this might be inevitable. The small age gap between the two of them means they're really close and get on really well. Of course, they have their moments and fight like others do, but it's not often and it quickly resolves. Although I'm sure once the teenage years hit that won't last…
I'm very aware that I'm writing this as a parent and not as a sibling to a disabled child. I have no frame of reference for what it's like for Connie. I have adult friends who have grown up in similar situations and they've always been reassuring about their experiences. But Connie has had to grow up very quickly. She has to wait for everything, wait while we get Olive in her chair for dinner, wait while we lift Olive out of the bath, wait while we calm Olive down before we go anywhere, wait while we get Olive's equipment in the car… and so on. She has heard me explain a hundred times that Olive is deaf and has cerebral palsy and can't walk. And I've heard her tell people with pride: 'My sister is in a wheelchair and talks in sign language.'
I was lucky enough to attend some training in work in the last year, around acceptance and self-care. It's really made a difference to how I think of things when I feel guilt creeping in around choices we've made for Olive; Olive's traumatic birth, the impact on our family and so forth. I'm still coming to terms with accepting things I can't change and trying to worry less about them. My way of coping is often to keep busy, I spend time on committees and boards and writing blogs to help myself think through things and share my experiences with others, in the hope of finding others who understand my experiences. But I'm beginning to realise I also just need to take time for myself and time to enjoy my kids and the amazing little people they are.
When it comes to Connie, we've decided the most important thing we can do is give her that self-awareness and resilience that she will need. She doesn't have a disability, but as a sibling of a disabled child, she's three times more likely to have difficulties with her well-being and social relationships than her peers.
While we spend a lot of time worrying about making the right decisions and choices for Olive and what will happen when she outlives us, we can't forget that Connie is our daughter too and the choices we make for her might be fewer, but they are just as important. It's her choice if she ever wants to help and care for Olive, we don't want her to feel pushed into it and resent us, or Olive, for it. But bringing up two children who you have to parent differently and whose life experiences will be so vastly different to our own, is not easy. The best we can hope to do is make sure they're given the opportunity to just be sisters. Olive gives back just as much to Connie, they have little jokes and play games together without us. Those are the magical moments that let me know they will be OK. And in 10 years, when they're swearing at each other for losing a lipstick or posting a bad photo on Instagram or whatever the equivalent is by then, I'll try to think back to Connie sitting on Olive's back and trying to make her giddy up.